Procerin is a safe and effective two-part solution to male hair loss and thinning hair
Procerin tablets contain all-natural, powerful DHT blockers that have been proven in university and clinical studies worldwide. Procerin XT Topical Foam contains powerful hair growth stimulating compounds that have been clinically proven to assist in the regrowth of hair. Used together, Procerin tablets and XT Foam provide a comprehensive approach to fighting hair loss naturally.
Unlike some products that promise the same solution for male or female hair loss, Procerin is specifically developed for men only. Procerin's active ingredients are scientifically developed to target the specific enzyme that converts the male hormone testosterone into dihydrotestosterone (DHT). Testosterone is converted by the enzyme 5 Alpha-Reductase (5AR) into DHT, which attaches to androgen receptors in the scalp and kills the genetically susceptible hair follicles at the crown and temple area.
Because this type of hair loss only affects men, Procerin's active ingredients can precisely target the cause of male hair loss at the source. Using both internal and external ingredients, Procerin targets the specific chemical process that transforms the male hormone testosterone into the hair-attacking byproduct DHT, without the sexual side effects of prescription medications.
What Causes Hair Loss?
Androgenetic Alopecia (or Male Pattern Baldness) is due to the negative side effects of Dihydrotestosterone (DHT) on the genetically susceptible hair follicles.

The enzyme 5 Alpha-Reductaseconverts Testosteroneto Dihydrotestosterone
DHTbinds to Androgen Receptors
DHT causes increased hair loss and gradual miniaturization of the hair follicle.
Over time the hair follicles die and the scalp becomes visible.
How Procerin Works
Procerin is formulated with natural ingredients scientifically proven to combat hair loss by:

Inhibiting the 5AR enzyme and reducing DHT's production.
Blocking the Androgen Receptors and preventing DHT's attachment to the hair follicle.
Activating the hair follicles and stimulating hair growth.
Over time hair loss decreases and the hairs become thicker and longer giving the appearance of hair growth and a thicker and fuller head of hair.
How Long Does it Take?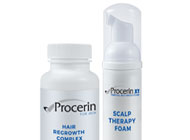 Because hair grows slowly, (about one-half inch per month), it is recommended that men use Procerin for at least 1 to 2 months before they should expect to see significant results. For men seeking faster results, we recommend using both Procerin tablets and Procerin XT Foam in conjunction with each other to maximize their results. Procerin should be used continuously until desired results are achieved.

Peace of Mind
The active ingredients in Procerin are all-natural compounds that have been used successfully both topically and orally for many years. Unlike many prescription medications, Procerin does not have any sexual side effects. Procerin can be used safely by men of any age, with all levels of hair loss. A small minority of men report mild stomach discomfort while taking Procerin, which is remedied by taking Procerin with food. For men with sensitive skin, it is recommended that you apply Procerin XT Topical Foam only once a day for the first week.
Procerin's benefits are greatest for younger men (18-35), and older men whose hair is still in a growth phase. Men that still have growing hair experience an increase in hair count, and improvement hair thickness. Men often begin losing hair in their 20's, with hair loss progressing more rapidly as they age. As men get older, their hair's natural growth cycle cannot keep up with the hair loss. Procerin is most effective for those men whose hair is still growing, but have thinning hair or a receding hairline. Procerin's effectiveness for men whose hair is no longer in a growth phase is limited to retaining existing hair.
Procerin is scientifically designed to help men retain and regrow their hair, and stop hair loss in its tracks
The active ingredients are all-natural DHT inhibitors. No harsh chemicals, no messy sprays or special shampoos, and no sexual side effects. Simply use Procerin once in the morning, and once before bed. Procerin is the convenient solution to hair loss, available without a prescription. We want you to be completely satisfied with your choice to fight hair loss, so we offer an Unconditional 90-Day Money Back Guarantee. If you aren't completely satisfied with your results while taking Procerin, simply return in for a full refund. We're confident that you'll join the 88% of users who report success with Procerin!