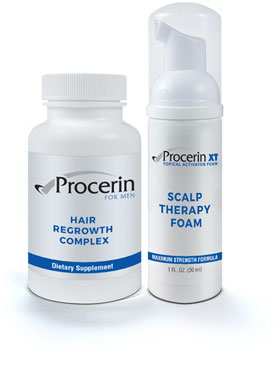 DHT, or Dihydrotestoterone, is a hormone created when the enzyme 5-alpha reductase interacts with the male hormone testosterone in a man's body. This chemical reaction results in excess levels of DHT, the chief culprit in male hair loss and prostate problems.
Too much DHT present in the scalp causes androgenetic alopecia, otherwise known as male pattern baldness. Because only men have high levels of testosterone that can be chemically altered to form DHT, hair loss is much more common in men than it is in women. Men can begin early stages of androgenetic alopecia as early as in their twenties. By the age of 35, more than 40% of all men will experience signs of hair loss.
What Causes Hair Loss?
Androgenic Alopecia or Pattern Baldness is due to the negative side effects of Dihydrotestosterone (DHT) on the genetically susceptible hair follicles.

The enzyme 5 Alpha-Reductase converts Testosterone to Dihydrotestosterone
DHT binds to Androgen Receptors
DHT causes increased hair loss and gradual miniaturization of the hair follicle.
Over time the hair follicles die and the scalp becomes visible.
While hair loss is a source of stress for men, there is an answer, Procerin. Procerin is an all natural product designed specifically for men and the leading cause of their hair loss, DHT. Procerin's proprietary formulation effectively blocks the chemical reaction at the cellular level that causes testosterone to be converted to DHT. By reducing the presence of this harmful by-product, the hair on your scalp is no longer under constant attack from the ravaging effects of DHT. Balance is restored to your body's own natural hair growth process, and you can actually see your own hair growing back thicker and fuller.
How does a DHT Blocker Prevent Hair Loss?
DHT slowly kills off hair follicles by attaching to androgen receptors in the hair follicle, inhibiting its growth and coloration, and resulting in the eventual loss of the hair. Hair follicles that are still active can be restored to their previous size and growth pattern once DHT levels in the scalp are reduced. By blocking the chemical process that changes testosterone into DHT, Procerin works with a man's chemistry to restore his natural hair growth and halt further hair thinning.
How Procerin Works
Procerin is formulated with natural ingredients scientifically proven to combat hair loss by:

Inhibiting the 5AR enzyme and reducing DHT's production.
Blocking the Androgen Receptors and preventing DHT's attachment to the hair follicle.
Activating the hair follicles and stimulating hair growth.
Over time hair loss decreases and the hairs become thicker and longer giving the appearance of hair growth and a thicker and fuller head of hair.
Prescription medications that inhibit the production of DHT are effective at restoring hair much in the same way as Procerin, but with potential side effects such as impotence or a loss of libido. Unlike prescription products that can negatively affect the male hormone testosterone directly, Procerin's ingredients work to block the production only of DHT itself. There are no known significant side effects to using the Procerin formula.
Procerin can be used safely by all men, at any stage of hair loss. Procerin contains only proven natural ingredients that inhibit the production of DHT in the body, without messy chemicals or medications. The Procerin for Men formula comes in both tablet and topical foam form.
Procerin is the convenient solution to hair loss, available without a prescription. We want you to be completely satisfied with your choice to fight hair loss, so we offer an Unconditional 90-Day Money Back Guarantee. Should you ever be less than completely satisfied with your results while taking Procerin, simply return the unused tablets for a full refund. We're confident that you'll join the 88% of users who report success with Procerin!