Procerin Research Study
Study Investigator: Dr. Peter Helton
DO FAOCD Study Coordinator: DETUAG Testing Centers
Male pattern baldness is common in our society. It is unknown whether there was an evolutionary advantage to this pattern of hair loss, but that certainly is not the case in this millennia. A recent study by Rhodes showed "the proportion of men with moderate to extensive hair loss is increasing with increasing age, ranging from 16% for men 18-29 years of age to 53% of men 40-49." We live in a society that celebrates youthful appearances and is becoming increasingly aware of side effects of medications. Hence, there is a need for a treatment that will promote hair growth that is composed of natural ingredients devoid of prescriptive side effects. The recent discovery that male pattern baldness is triggered by DHT receptors in the hair follicle coming in contact with testosterone has enabled us to take advantage of several agents that will block this receptor and therefore avoid hair loss and even promote new hair growth. Procerin has an oral nutritional supplement and topical solution with ingredients believed to promote hair growth.
Procerin Research Study - Abstract
Thirty-two screened volunteer subjects agreed to take part in an IRB approved research study. These volunteer subjects were initially examined to assess the effects of utilizing a combination application of an ingestible and topical nutritional therapy known as Procerin. Subjects were screened to meet criteria (see protocol). Subjects completed base line "before" questionnaires and photos and an overall assessment was made using commonly accepted hair growth assessment tools in research environments.
In the pre-supplementation testing of this IRB approved research study subjects were examined by either the Study investigator or Study coordinator, photographed and questioned. Questionnaires used were designed to track subjects overall satisfaction of the product use while photos were taken in an attempt to evidence efficacy of the product during the term. Subjects were then given the supplement and told to refrain from taking any other hair growth product during the 90 day period of the study.
The subjects followed the program for up to 90 days and 21 were photographed, assessed and questioned again at the completion of the study to determine the user satisfaction of the product.
Before the study these subjects had been experiencing some level of hair thinning and or hair loss. During the retest almost every subject noted that they benefited from the nutritional therapy they used. As shown in Graph 1 and Figure 2 the overall level of satisfaction is obvious after 90 days with 19 out of 21 stating a level of satisfaction with the Procerin product.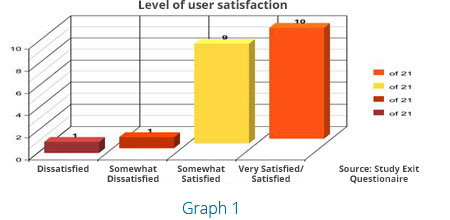 In addition, 15 test subjects agreed that Procerin helps to slow hair loss while 5 of the 21 were still undecided/no opinion and only 1 claimed dissatisfaction.
The subjective comments were mostly positive with only one user out of 21 stating they would not recommend the nutritional therapy.

Results from the Procerin Research Study
During the study participants completed a number of questionnaires the answers to which are summarized below in Table 1 and Table 2.
Table 1 | Exit Questionnaire Summary
Question
Strongly
Agree
Agree
Neutral
Disagree
Strongly
Disagree
Effective in helping to slow hair loss
5
10
5
1
0
Easy to use
4
6
3
3
0
Would Recommend to Others
6
8
6
1
0
Table 2 | Overall Satisfaction
Very Satisfied/Satisfied
Somewhat Satisfied
Somewhat Dissatisfied
Dissatisfied
10
9
1
1
Even though within only a 90 day term, the results of this research study do lead to the indication that Procerin may be an effective nutritional therapy for thinning hair. The Study Coordinator noted that visual changes are depicted in a number of the 90 day comparison photos (see Procerin Sample 1, 2, 3).
A study of 180 days or more is recommend by Study Investigator and Study Coordinator in order to validate rate of effectiveness however these study results do indicate Procerin to be an effective nutritional therapy for thinning hair. 90% of those that completed the study stated a level of satisfaction with the product, most after 90 days with a majority using the descriptors 'thicker' and 'more full'.
93.75% of those in the study with opinions agreed that Procerin helped to slow their hair loss (see Graph 2) and 93% of those with opinions stated they would recommend it to friends and family.
Procerin Research Study Summary
Detuag Testing, Inc conducted an IRB Approved Research Study for Speedwinds Nutrition, Inc designed to document a user's rate of result and to solicit user feedback on the use of an ingested and a topically applied nutritional therapy for hair growth. Speedwinds Nutrition inc. is selling the product as a single product branded Procerin. The results of this study will help Speedwinds Nutrition, Inc document user reaction to product effectiveness and provides user feedback information including user's level of satisfaction. For specific objectives related to this study, please refer to the section titled "Objectives".
Detuag Testing, Inc. expected to enroll up to 50 subjects in the study. A minimum of 30 subjects were expected to complete 60 days of the trial and a minimum of 20 were expected to complete the 90 day trial. The study recruitment goals were met per the complete 90 day study.
The study coordinator initially enrolled 32 participants in the study with a total of 21. Participants completing the full 90 days.
The study was monitored by a licensed dermatologist. Participants completed a registration questionnaire as well as an informed consent prior to enrolling in the trial. Participants were expected to complete a diary, questionnaires, have their photos taken and participate in focus groups and interviews. Participants were compensated for their participation in the trial.
Procerin Research Study Backround
Product Description
Procerin comes in a convenient tablet form and topical solution that are used in combination daily for the nutritional therapy of male hair loss. Procerin is a natural supplement available without a prescription. While there are several causes of hair loss, Procerin (topical and tablet together) is effective in reversing hair loss in some men caused by androgenetic alopecia, the most common cause of male hair loss. Androgenetic Alopecia (AGA) results in thinning hair and the familiar receding hairline (or widow's peak.) AGA afflicts approximately 50% of men over the age of 40. It is characterized by a progressive miniaturization of scalp hair follicles in predisposed individuals. AGA hair loss involves a genetically predetermined sensitivity to the effects of the androgenic hormone dihydrotestosterone, or DHT, in certain scalp hair follicles. DHT is believed to shorten the growth, or anagen, phase of the hair cycle, causing the miniaturization of the follicles.
Speedwinds Nutrition, Inc. has developed this combination of supplements formulated with natural ingredients known to block production of DHT, a major cause of hair loss in men. The active product ingredients illustrated in figure 1 are known DHT inhibitors and are found in the topical solution and nutritional supplement. Illustrated in figure 2 is product ingredient list.
Figure 1:
Saw Palmetto (serenoa repens). Serenoa repens berries grow naturally, with the extract claiming to be an androgen inhibitor of 5aR to inhibit DHT production, mainly claimed for use in prostate problems. Saw palmetto oil is an accepted use for benign prostate hyperplasia in men. It appears to interact with various sex hormones, including dihydrotestoseteron (DHT). DHT is produced from testosterone by enzyme 5-alpha-reductase. Like most enzymes, it can be inhibited. Saw palmetto is believed to have a similar mechanism of action to the anti-androgenic drug finasteride (Propecia), which has been used in low doses for hair loss.
Zinc A lot has been claimed about zinc for use in various diseases, including topical use for acne, another androgen related problem. Specific forms of zinc, i.e., zinc acetate, zinc sulfate, and others, have various properties that promote wound healing, help treat acne, and promote hair growth. Also, Zinc can boost thyroid function and reduce hair loss that comes from an under active thyroid. Zinc can also affect the levels of androgens, the hormones involved in some form of genetic hair loss. Zinc sulfate was found to be an inhibitor of DHT production.
Vitamin B6 (Pyroxidine) helps to create melanin, which gives hair its color and promotes healthy hair.
Magnesium Through laboratory experiments for hair loss, scientists have seen a decrease in thinning hair in lab animals. The results demonstrated that a diet low in magnesium cause hair loss in patches.
Figure 2:
Procerin For Men - Herbal Supplement Tablet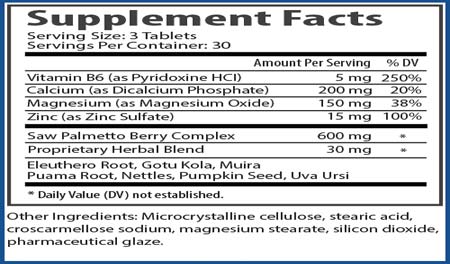 Procerin is an all-natural supplement, formulated specifically for men to combat hair loss and assist in re-growth.
Directions: Take 1 tablet with water each morning and 2 tablets each night before sleeping. If stomach discomfort occurs, take with food.
Consult your physician before using if you are currently taking a MAOI inhibitor. Keep out of reach of children. Do not use if safety seal is broken or missing.
These statements have not been evaluated by the Food & Drug Administration. This product is not intended to diagnose, treat, cure or prevent any disease.
Procerin For Men - XT Topical Serum
Directions: Shake vigorously before use. Apply 1ml to the affected and surrounding areas of the scalp twice daily. Gently massage into the scalp. Allow 10 seconds to dry, then style hair as usual. Do not wash hair for at least 4 hours. For best results use daily in conjunction with Procerin tablets.
Caution: For external use only, keep out of reach of children. Avoid contact with eyes. In case of accidental ingestion, seek professional assistance immediately. If scalp redness or irritation occurs, use only once daily.
Ingredients: SD Alcohol 40, Polysorbate 20, Purified Water, Oleic Acid, Linoleic Acid, Alpha Linolenic Acid, Azelaic Acid, Evening Primrose Oil, Avocado Oil, Saw Palmetto Extract, Grape Seed Extract (Procyanidin Oligomers), Gamma Linolenic Acid, Pygeum Bark Extract, Stinging Nettle Leaf Extract, Tocopherol (Vitamin E), Zinc Sulfate, Pyridoxine (Vitamin B6).
Active ingredients in Procerin have had support studies relating to hair growth and the blocking of DHT.
The prominent active ingredients of Procerin have been proven to help block DHT (DHT is the chemical which is said to cause hair loss in men) and combat the effects of hair loss and thinning hair. The Procerin package will be positioned as a dietary supplement and topical which slows hair loss and promotes regrowth.
Clinical Support:
A Randomized, Double-Blind, Placebo-Controlled Trial to Determine the Effectiveness of Botanically Derived Inhibitors of 5-alpha-Reductase in the Treatment of Androgenetic Alopecia published in The Journal of Alternative and Complementary Medicine resulted in the demonstration of a positive response for the active ingredients utilized in Procerin and other DHT inhibiting dietary supplements currently on the market. (The Journal of Alternative and Complementary Medicine. 2002, 8(2): 143-152.)
Other proprietary ingredients like Gotu Kola are known to increase blood flow, Nettles are known as an anti-inflammatory and have been used to alter the same mechanisms that affect the aging prostate as those in hair loss. Most of the ingredients in Procerin have been shown to assist in hair growth in one way or another.
The clinical trials submitted to the FDA provide strong evidence as to the Procerin product's efficacy and safety. The same is reported in this Research Study. There were no reported serious adverse events during the Procerin study nor are they expected in the post-study follow-up.
Objectives
The key objectives of this study were to:
Solicit user feedback on the Procerin use.
Solicit user feedback on any side effect.
Solicit user feedback on key benefits and key challenges of the Procerin combination use.
Solicit user feedback into labeling, packaging, and instructions.
Solicit user feedback on individual experience of product effectiveness.
Solicit any photographic evidence of efficacy over 90 days.
Procerin Research Study Population & Screening
All participants in the trial were to meet the Inclusion Criteria listed below.
Recruitment Criteria
A Telephone Screener document was prepared and can be found in Appendix 1.
Inclusion Criteria
Subjects were included in the study if they satisfied the following:
Males between the ages of 18 and 50 years of age
In good health, with mild to moderate AGA.
Exclusion Criteria
Criteria for Exclusion Prior to the Start of the Study:
Those that are unemployed as unemployed men do not represent the targeted consumer;
Those who had been on prescription or over-the-counter use for AGA or a Prostate condition within the past 30 days prior to initiation of the trial;
Symptomatic cardiac problems, uncontrolled hypertension, symptomatic hypotension, autoimmune disorders;
Those who had participated in a clinical trial within 30 days prior to Enrollment
Those with any known allergy to any ingredients in the test products
Those who are currently taking a MAOI inhibitor
Those with any other medical condition that could interfere with successful conclusion of the study.
Criteria for Exclusion during the Study Date of termination of participant in the study will be recorded.
Grave illness during use. Any subject with a new diagnosis of a grave illness during the study trial will be immediately terminated from the trial. The date of termination from the study will be recorded.
Non-compliance.
Sunburn over entire head is reason for exclusion from the study. Subjects will be advised to avoid over exposure to sun during the use period and for at least two (2) weeks afterwards.
Screening
All participants in the trial met the Inclusion and Exclusion Criteria listed below. These participants were drawn from specific demographic / psychographic segments based on the following criteria.
Subjects were compensated $25per weekday visit and [$50] for attending any follow-on meetings, focus groups or interviews.
Recruitment Summary
Large Ads were placed in various daily newspapers designed to attract those that suffer from AGA (see Appendix 2 and see Appendix 3).
32 participants met the criteria and were invited to participate in the study
21 completed the protocol for 90 day study
Research Study Methodology
Once a potential participant passed the telephone screen, a screening visit was scheduled and if the subject fulfilled all inclusion criteria, the subject was enrolled as a subject and completed the Screening Visit procedure described below. This visit served as the baseline visit.
Screening Visit
At the Screen/Baseline Visit (study day 1), the following was performed:
Informed consent was explained and obtained.
Subject questionnaire was completed containing subject name, contact information, hair history, pertinent medical history, medications, and allergies.
Site investigator or study coordinator reviewed the questionnaire for completion of information and signature and answer all questions by subject. The Principal Investigator, a qualified medical doctor, made the final decision for inclusion or exclusion of a subject into the study based on examination and the subject's medical history, medications, or allergies.
After qualification for inclusion in the study, subjects were assigned sequential registration number by the site coordinator beginning with 900. Assignments were made on time of first presentation, a first-come first-served basis, regardless of age, gender, heritage, severity of hair loss, or any other criteria.
Subject "before" photos were then taken.
Each subject was provided a Subject Package (shown in Appendix 4) including:

Supplement bottles. The investigator attached a sticker to the back of the product with the registration number which remained in place throughout the study.
Procerin User's directions
Study Directions;
Subject Diary;
Copy of Informed Consent;

Subject was instructed to review Procerins user guide and answer a brief questionnaire prior to using the product
Overall hair assessment was made using a Norwood-Hamilton Scale of male baldness

(Table I). Norwood-Hamilton Scale of Male Pattern Baldness

Throughout the study subjects were asked to evaluate any change with respect to their current level of satisfaction with their hair.
A representative area of baldness on the scalp vertex will be selected and a small dot will be tattooed with permanent ink in the center of the balding area and a 1/4 inch diameter circle template will be cut from a plastic material. At every other visit the template will be placed centered over the dot and noticeable hairs will be counted. This was found to be inconclusive and was discontinued early on as the accuracy of the hair counts are questionable being that hairs which fell on the borderline may have fallen within or outside of the perimeter on a given day.
Follow-UP Visits
Subjects came in every week. Each Follow-On Visit consisted of the following:
Any adverse events were noted in the subject chart and reported per the On-Site Study procedures.
Subject photos taken and documented with use day.
Review prior week's diary and determine compliance.
Address any subject questions.
Any significant deviations from the use procedure or any material questions from the subject will be noted in the subject chart.
Subjects were asked to evaluate any change with respect to their current level of satisfaction with the product use.
At the end of the study subjects were asked to complete the Procerin Exit Questionnaire shown in Appendix 4.
All subjects were instructed to use the Procerin nutritional supplement tablet and topical solution in their daily regimen.
Subjects were able to opt out at any time.
Procerin Nutritional supplement and topical supplement
Week 00
Saturday
Week 01
Wed/Thurs
Week 02
Wed/Thurs
Week 03
Wed/Thurs
Week 04
Wed/Thurs
Week 05
Wed/Thurs
Week 06
Wed/Thurs
Week 07
Wed/Thurs
Week 08
Wed/Thurs
Week 09
Wed/Thurs
Week 10
Wed/Thurs
Week 11
Wed/Thurs
Week 12
Wed/Thurs
Week 13
Wed/Thurs
Final Visit and Study End Points
At the end of each subject's study period, the subjects returned all study materials provided to them with the exception of the following:
Their copy of the Informed Consent
Compensation
Subjects who complete the study will be compensated $25 for each office visit. Subjects will also be compensated $50 for attending any individual interviews. All payments will be made 30 days after completion by check by study sponsor.
Conclusion
In order to test the full impact on the hair follicle's growth cycle at least 6 months would be required however the results of this initial 90 day Procerin Research study indicates that Procerin generates positive results for Men. 90% of the subjects' perception was that Procerin did slow hair loss. Moreover, the data shows that the vast majority of subjects are satisfied with Procerin and would recommend it to others. The majority of hair loss products on the market used to contain minoxodil, a drug that alters blood flow and is helpful for vertex balding. Then science noticed that medications that were used to shrink the aging enlarged prostate started to grow hair in men not only in the vertex but frontally as well. This led to the laboratory discovery of DHT receptor blockers. Herbal medications, that at the turn of the century were initially used to improve elderly urine flow, were now being looked at for prostatic and hair growth uses. There is a need to incorporate both the blood flow and DHT blocking abilities in a therapy that is easy to use and holistic in nature without prescriptive medication side effects. Procerin fits this bill nicely. This study clearly shows Procerin therapy is easy to use and even has beneficial photographic results at 90 days.
List of Appendices
References
1: Dermatol Surg. 1998 Dec;24(12):1330-2.Links
Prevalence of male pattern hair loss in 18-49 year old men.
Rhodes T, Girman CJ, Savin RC, Kaufman KD, Guo S, Lilly FR, Siervogel RM, Chumlea WC.
Department of Epidemiology, Merck Research Laboratories, West Point, PA 19486, USA.
LIST OF APPENDICES
1. Telephone Screener

2. Recruitment Ad a

3. Recruitment Ad b

4. Procerin Exit Questionnaire