The following are provided to assist with any questions you have regarding Procerin for Men. If your question is not answered here, please send an email to support@procerin.com and one of our trained support staff members will respond to your inquiry.
What causes Hair Loss?
A variety of factors can cause hair loss, including genetics, diet, the use of certain bodybuilding supplements, and environmental factors. Genetics plays the largest role, men with balding ancestors (on either side of the family) are more like to suffer hair loss, particularly at a younger age. The majority (92%) of men suffering from baldness, receding hairline, and thinning hair have a condition known as androgenetic alopecia. Procerin is designed specifically to combat this cause of hair loss, which is caused by elevated levels of DHT in the scalp.
What is DHT?
An enzyme that occurs naturally in your body known as 5 alpha-reductase converts the male hormone testosterone into another hormone known as dihydrotestosterone (DHT). Men with pattern hair loss have increased levels of DHT in the scalp. DHT contributes to a shortening of the growth phase. Hairs become brittle, lighter in color, and fall out at a much faster rate than normal. Studies now show that inhibiting 5-alpha-reductase is the key to preventing hair loss and male pattern balding. Procerin's active ingredients prevent the chemical reaction that changes testosterone into DHT, and reduce levels of DHT present in the scalp.
How long does Procerin take to work?
Because hair grows slowly (about 1 inch every two months) it is recommended that men use Procerin for at least 1 to 2 months before they should expect results. While some Procerin users do report improvement in only 2 weeks, most men take 1-3 months before significant increases in hair count occur. Compare this to products like Rogaine® (4 months) and Propecia® (6 months) and the results from Procerin are much faster than comparable products. Procerin is also backed by our 90-Day Unconditional Guarantee (no prescription medication offers this guarantee). If you are not completely satisfied, simply return your order for a full refund.
Does Procerin work for women?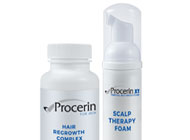 While some of the nutrients in Procerin tablets may be beneficial to women, the active ingredients in Procerin are aimed specifically at hair loss caused by DHT. This compound is not present in significant amounts in the female body, and is not believed to contribute to female hair loss to the degree it does in men.We recommend Sephren for female hair loss, which you can order directly from the manufacturer by clicking here.
What is the difference between Procerin Tablets and Procerin XT Foam?
Procerin Tablets are formulated from natural DHT blockers that are taken orally. Procerin XT Foam is applied to the scalp, to fight the effects of DHT externally. Together, these components provide a powerful combination, both internal and external, against male hair loss and thinning hair. For faster and more effective results, it is recommended that both Procerin Tablets and Procerin XT Foam are used in your hair care regimen.
How do I know if Procerin will work for me?
Preliminary studies indicate that Procerin is effective for the majority, but not all, of men suffering from androgenetic alopecia, the most common cause of hair loss. Procerin will not help individuals whose hair loss is a result of chemotherapy, scalp trauma, alopecia areata, or other non-DHT related causes. View Clinical Studies Here.
Is Procerin FDA approved?
The Food & Drug Administration does not have an approval process for any nutritional supplements, only prescription medications. All of Procerin's ingredients voluntarily comply with the FDA's GRAS safety requirements.
Can I take Procerin at the same time as Rogaine/Propecia?
Procerin is safe to take in conjunction with other supplements and medications for treatment of hair loss. Many of our customers report great success using Procerin and Propecia together, since both products target different phases of DHT production. Topical treatments such as Rogaine will not interfere with the effectiveness of Procerin, and may help to increase your rate of hair regrowth. For topical use, we recommend using Procerin XT Topical Foam in conjunction with Procerin tablets for faster results.
Does Procerin have any side effects?
Procerin is free of most side effects associated with other medications and supplements. A small minority of men report mild stomach discomfort in the first days of use. If this occurs, simply take Procerin with food and the problem will subside. Some men with sensitive skin should use Procerin XT Topical Foam only once a day if skin irritation occurs.There are no other known side effects from taking Procerin.
How do I know if my hair is in a growth phase?
Hair goes through 3 phases in its life cycle: growth (anagen), rest (catagen) and loss (telogen). At any given time, 90% of your living hair is in a growth phase. If your existing hair continues to grow in length (requiring cutting) then at least some of your hair is still in growth phase, and Procerin can help you regrow your hair. If none of your hair ever lengthens or requires cutting, Procerin's effectiveness is limited to retaining your existing hair.
Can I order Procerin from outside the United States?
Yes, we can ship Procerin internationally to most countries. At this time, customs laws have prevented us from shipping Procerin to Saudi Arabia, Iran, Algeria, and South Africa. If you are unsure whether your country's customs laws permit the importation of Procerin, please contact us prior to placing your order.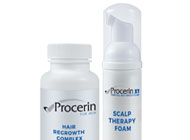 Please be aware that there may be a delay for customs clearance in foreign countries, especially Canada and Australia.
All international shipments are shipped immediately, we cannot control delays caused by foreign customs officials.
What are the ingredients in Procerin?
Procerin is a proprietary blend of herbal, mineral, and vitamin components. The 17-ingredient formula of Procerin tablets includes:
Saw Palmetto Berries, Gotu Kola, Nettles, Magnesium, Zinc Sulfate ,Eleuthero Root, Vitamin B-6, Pumpkin Seed Meal, and Muira Puma Root. Procerin XT Topical Foam ingredients include Water, Cocamidopropyl Betaine, PEG-40 Hydrogenated Castor Oil, Saw Palmetto Extract, Rooibos Leaf Extract, Grape Seed Extract, Linoleic Acid, Oleic Acid, Evening Primrose Oil, Avocado Oil, Panthenol, Niacin, Azelaic Acid, Tocopheryl Acetate, Zinc Sulfate, Peppermint Oil, Lodopropynyl Butylcarbamate, Phenoxyethanol, Caprylyl Glycol. Click Here to view the Supplement Facts label.
Additionally, all ingredients are pharmaceutical grade quality and processed under stringent quality control standards. No binders, fillers, or artificial preservatives are used in our tablets.
What happens if I stop taking Procerin, will my new hair fall out?
This is a common concern, and the answer varies by individual. Some men report no hair loss after a period of disuse. Most men start to see their hair loss return, more slowly, within a few months of cessation of Procerin use. Generally, younger men have better results discontinuing Procerin use without a return to their previous state than older men. We encourage all users to experiment to determine what period of use works best for them.
How long will it take for my order to arrive?
In the continental United States and Mexico, online rush orders take 3-5 business days. For mail orders and international orders, please allow an additional 12-14 business days. Some foreign customs officials, especially Canada and Australia, may delay delivery further. If you wish to check on the status of your order, please send us a message at orders@procerin.com, we will respond as quickly as possible.
What if I'm not completely satisfied with my order?
We at Procerin believe strongly in our product, and we offer a guarantee to all of our customers. If you are not completely satisfied with the results you achieve while taking Procerin, we'll refund your entire purchase price, no questions asked. We are confident that, like the majority (88%) of our customers, you'll discover that Procerin is simply the most effective, convenient, cost-effective weapon against hair loss on the market today. Order now, risk-free, and discover just what Procerin can do for you!