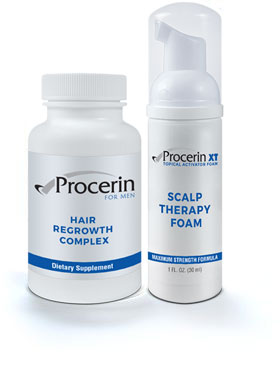 Male hair loss affects 1 in 3 males by the age of 50. While there is currently no cure for hair loss, there are many hair loss products on the market purporting to remedy male hair loss and thinning hair. Not all potential hair loss products are created equal. Some hair loss products are designed to only cover up the signs of hair loss, such as wigs, toupees, and hair dyes. Other hair loss treatments lack scientific background for their claims to treat hair loss. Because hair loss is an emotional event for most men, much time and money is spent searching for a hair loss solution in the form of hair loss medications, cover-ups, and transplants.
Hair Loss Treatment: Prescription Hair Loss Medication
Male hair loss is generally regarded as natural, and not a disease. Nevertheless, many men choose to pursue the use of prescription medications as a hair loss treatment. The most popular of these prescription hair loss medications is Propecia. Propecia is the brand name of finasteride, a chemical that partially blocks the effects of male hormones that are thought to contribute to male hair loss. While Propecia has shown some effectiveness as a hair loss treatment, it is not a natural solution to male hair loss. It requires a physician's visit for a prescription, and has sexual side effects in some users. Its effects wear off immediately upon discontinuing use, resulting in further hair loss. A one month supply of Propecia costs approximately $70-$100, making it one of the more expensive hair loss treatments on the market.
By contrast, Procerin for male hair loss is available without a prescription. It is a natural hair loss product, with no dangerous chemicals or side effects. Procerin is a safe alternative to prescription hair loss treatments. Procerin is the only all-natural hair loss solution backed by our 90-Day Guarantee.