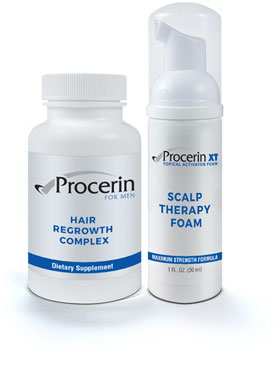 Side Effects and Risks of Finasteride
Finasteride (commonly known as Proscar or Propecia) is a popular 5a-reductase inhibitor manufactured by the Merck Corporation and used to treat male pattern baldness and benign prostatic hyperplasia. The purpose of Finasteride is to deactivate the 5a Reductase enzyme, which converts testosterone into dihydrotestosterone (DHT). Elevated levels of DHT are one of the main causes of male hair loss, so blocking this enzyme is considered key to stopping and preventing hair loss.
Adverse Effects of Finasteride
Plenty of advertising exposure has ensured that Finasteride is one popular potential method to treat hair loss known to most men. However, it comes with numerous risks, some of which are potential very serious. For example, the FDA publically announced a recent warning that Finasteride increased the risk of hide-grade prostate cancer.
While the exact effect was not known, studies had found that men taking Finasteride who developed prostate cancer had a higher average grade on the Gleason Grade (the measurement for the severity of prostate cancer). The FDA also warned that Finasteride might also mask the earning warning signs of prostate cancer, when it is more easily treated.
Another common health problem associated with the use of Finasteride is the development of depression or anxiety. In one clinical trial, just 1 milligram of Finasteride was a high enough dosage for 19 of the 23 participants to develop depression-like symptoms. Researchers also noted much higher Beck Depression Inventory (BDI) and Hospital Anxiety and Depression Scale (HADS) scores among participants. Both of these scales measure the symptoms of depression and anxiety experienced by users of a drug.
In a recent study published in August of 2012, past Finasteride users were screened to measure any long-term health effects resulting from their use of the medication. Of the 61 male users, researchers found that Finasteride users were 75% more likely to show outward symptoms of depression compared to a control group. 11% had mild symptoms, 28% of men had moderate symptoms, and 36% had severe symptoms. 44% of the men also admitted to having suicidal thoughts or display suicidal actions at some point. This prompted the FDA to issue a warning that Finasteride may dramatically increase the risk for depression.
Regular Side Effects of Finasteride
If the severe adverse risks of Finasteride are not enough, there are also common problems with Finasteride as well. Users can experience swelling in the mouth, face, lips, or tongue, rashes, itching, difficulty breathing, tightness in the chest, testicular pain, and breast tenderness.
Sexual dysfunction is also very common in both men and women after taking Finasteride as well. This is the most commonly reported side effects reported by men, and there are numerous men who have filed lawsuits as a result of the sexual side effects. Although women are not recommended to take Finasteride, some women who have taken Finasteride before menopause have become infertile as a result. In men, Finasteride has been linked to sexual impotence and complete sexual dysfunction. These sexual problems remained persistent in some men long after they discontinued usage of the drug, and have been the subject of numerous class action lawsuits against the Merck corporation Both men and women also have noticed a severe drop in libido as well when exposed to Finasteride's active ingredient. Women can be negatively affected by merely handling the broken pills, and warnings about any female handling the tablets are displayed with all Finasteride prescription instructions.
For women, Finasteride has the potential to cause severe birth defects, which is why it is not FDA approved for women. Likewise, woman often experience severe breast win and some research points towards a connection between an increased risk for breast cancer and Finasteride.
Other Problems with Finasteride
There are many other problems with Finasteride that don't even relate to the health risks. Finasteride is a prescription-only drug, which means you'll need to see a doctor to get approved for usage and proper dosage. Plus, Finasteride is only approved for two very specific types of hair loss, so you might not even find it effective for your type of hair loss. Even men who experience hair regrowth from Finasteride usage are warned that their new hair growth will fall out when that usage is stopped.