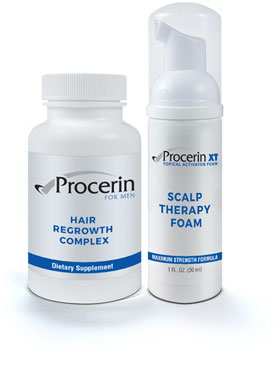 Rogaine™ & Procerin usage
Many Rogaine and Procerin customers contact us to determine if these two hair loss products can be used effectively together to combat hair loss. Many sufferers of hair loss and male pattern baldness report faster and more noticeable results from using Procerin and Rogaine together. No side effects have been shown from using Rogaine with Procerin. Rogaine and Procerin target different phases of hair loss; Rogaine reinvigorates shrunken hair follicles when applied topically and Procerin blocks the hormonal change that shrinks the follicle. Both hair loss products are available without a prescription, and have no reported sexual side effects. Rogaine is available for men and women; Procerin is designed specifically to combat only male hair loss.
When using Procerin and Rogaine together, men should review their progress every 2-3 weeks. Rogaine and Procerin take time to work because hair grows slowly, about half an inch per month. Rogaine is manufactured by Pfizer, and is available in topical form without a prescription. The most common side effect of Rogaine usage is itching. You can purchase Rogaine from most stores, Procerin can be ordered directly from the manufacturer by clicking below.