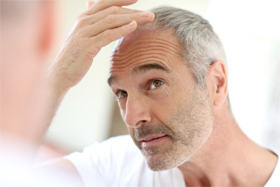 Rogaine: Is There A Better Alternative?
Rogaine is a common hair loss treatment that contains 5% minoxidil. It is common knowledge that the minoxidil in Rogaine acts as a vasodilator, yet how Rogaine specifically works to regrow hair is not known. It is suggested that the minoxidil may dilate blood vessels in the scalp which may improve hair follicle function and stimulate scalp hair growth and slow balding. In medical studies, minoxidil showed no effect on receding hairlines and was less effective for men over the age of 40.
Rogaine is not a cure. It must be used indefinitely for continued hair maintenance. Most new hair is lost within a few months after usage is stopped.
Though Rogaine has a proven success rate among many men suffering from hair loss, some disadvantages exist. Rogaine is not naturally derived and may cause side effects. The most commonly reported side effects include: redness, irritation, burning, dryness, itching, flaking and scaling on the scalp.
A Natural Alternative To Rogaine
A save alternative to Rogaine is Procerin XT Foam. Procerin XT Foam contains clinically proven Capixl™ and is naturally derived from botanicals, minerals and vitamins. Procerin XT not only targets the crown of the scalp, but can also help receding hairlines. Procerin XT helps to slow male pattern baldness by providing the essential nourishment the scalp needs to help revitalize dormant hair follicles. Procerin XT's natural ingredients help to combat dihydrotestosterone (DHT), which is the primary root of male hair loss.
Procerin XT can benefit men of all ages, regardless of which hair loss stage they are in. Procerin XT is most effective for men whose hair is still growing, but may be experiencing thinning hair or a receding hairline. Procerin's effectiveness for men whose hair is no longer in a growth phase is to help retain existing hair.
Procerin XT has no side-effects, is easy to use and does not require a prescription. Best of all, its backed by a 90 Day Money Back Guarantee. For best results, use daily in conjunction with Procerin's naturally and scientifically formulated oral supplement. The oral supplement contains proven DHT blockers and nutrients vital to hair growth and the prevention of further hair loss.